Five Essential Gadget/Device To Travel With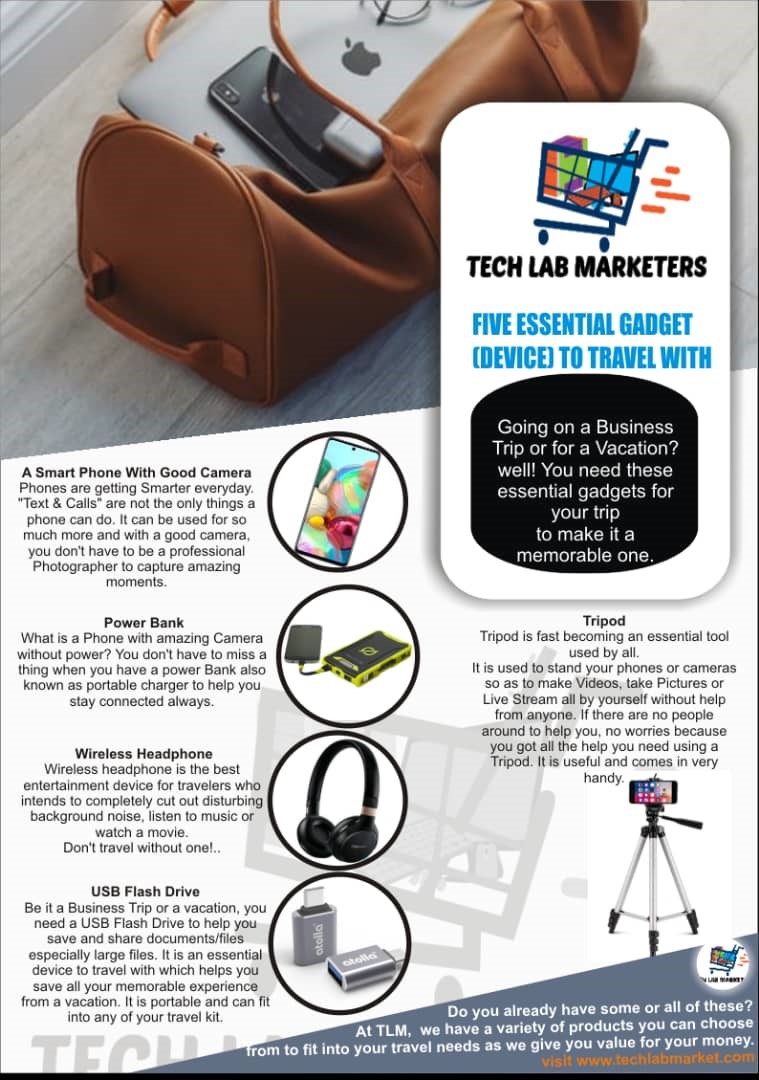 FIVE ESSENTIAL GADGET (DEVICE) TO TRAVEL WITH
Going on a Business Trip or for a Vacation? well! You need these essential gadgets for your trip to make it a memorable one.
1. A Smart Phone With Good Camera
Phones are getting Smarter everyday. "Text & Calls" are not the only things a phone can do. It can be used for so much more and with a good camera, you don't have to be a professional Photographer to capture amazing moments.
2. Tripod
Tripod is fast becoming an essential tool used by all.
It is used to stand your phones or cameras so as to make Videos, take Pictures or Live Stream all by yourself without help from anyone. If there are no people around to help you, no worries because you got all the help you need using a Tripod.
It is useful and comes in very handy.
3. Power Bank
What is a Phone with amazing Camera without power?
You don't have to miss a thing when you have a power Bank also known as portable charger to help you stay connected always.
4. Wireless Headphone
Wireless headphone is the best entertainment device for travelers who intends to completely cut out disturbing background noise, listen to music or watch a movie.
Don't travel without one!..
5. USB Flash Drive
Be it a Business Trip or a vacation, you need a USB Flash Drive to help you save and share documents/files especially large files. It is an essential device to travel with which helps you save all your memorable experience from a vacation. It is portable and can fit into any of your travel kit.
Do you already have some or all of these?
At TLM, we have a variety of products you can choose from to fit into your travel needs as we give you value for your money.
All products stated in this newsletter is available at www.techlabmarket.com